Referrals:
Refuge Services:
Is the first certified, "out-patient" Equine-Assisted Psychotherapy program in Texas. Serves a twelve county target area surrounding Lubbock County with mobile services. We can bring our program to your facilities.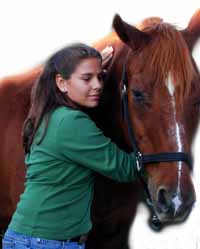 Partners, in the South Plains area, with and provides services to:
• courts
• schools
• inpatient treatment centers
• social service agencies
Targets issues including but not limited to:
• attention deficit disorder
• addictions
• eating disorders
• abuse issues
• post-traumatic stress disorder
• depression
• anxiety
• attachment
• relationship and behavioral problem

The program serves as a tool for assessing and gathering additional information about client's patterns of interaction and/or teaches coping strategies and solutions.

REFUGE Results:
REFUGE Services is an intensive, short-term therapeutic intervention for youth and families experiencing distress. Observable outcomes are seen in the first session. The participant is able to make immediate changes. This builds up confidence, which improves long-term impact of the treatment on the overall behavior, emotion, or relationship. This program also increases a participant's openness to therapy in the future.
Referrals:
A direct referral is not necessary to schedule an appointment with REFUGE Services, participants 18 years old and older may call and schedule without doctor referral. Children 18 years and under must have parental consent.